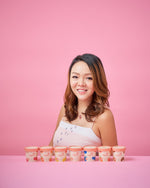 If I had to sum up the last 2 years of my life in a single word, it would unequivocally be this: transitions. 
12 years ago, Sogurt was born of my love for froyo and a desire to create delightful experiences for my customers as they customized their own frozen treats. That love and desire hasn't changed and is what has kept me on this journey for the past decade.
Some years back, however, I decided that our business model had to change to ensure a more sustainable and enduring trajectory for Sogurt. Recognizing the limitations of retail in terms of its consumer reach and costs incurred, I decided to pivot and re-imagine a new concept for our product.
I was walking in a supermarket one day and a thought came to mind: What if we could re-invent our frozen yoghurt and serve it in a pint on these shelves? What if Sogurt isn't just a date night treat or an after school dessert but a staple in your everyday lives?
Those who know me well know that I get excited by new ideas; it is what gets me out of bed each morning. Invigorated by the possibilities ahead, I dove into action, and in 2020, we launched our new line of Hard Serve Frozen Yoghurt, distributing our pints and tubs across supermarkets and numerous online channels.
Transitioning from something familiar (soft serve froyo) to something new (hard serve froyo) can bring about some trepidation, but I believed that as long as we retained the values of what we've always stood for, trying something different isn't all that scary.
Our efforts paid off.
The reconceptualization of Sogurt from a self-serve bar to ice-cream style pints helped us weather new business restrictions brought on by Covid-19. More people started sending gifts to one another during the lockdown, resulting in Sogurt hitting our highest sales ever, with a 130 per cent year-on-year growth.
In a season of unprecedented challenges and heightened health concerns, that consumers viewed Sogurt as a treat that could bring comfort (and wellness) to others was – and still remains – one of my greatest joys and successes in the business. It is what drives me to keep doing what I do.
Around that time in 2020, I married the love of my life and we welcomed our little one in 2021. Just like how I reimagined Sogurt 2.0, I started to reimagine Life 2.0 with my newfound roles as a wife and a mum. They say that the experiences you go through really shape and impact the decisions you make in your life, and I can attest to its truth. Every decision I made with Sogurt 2.0 was a direct result of something I had gone through in my life, and I wanted the wisdom I'd gleaned and the lessons I'd learnt to translate into something meaningful that I could offer the community.
I've always had a keen interest in health and wellness, but becoming a mom reaffirmed that more concretely! I have a child to care for now and I need her to be healthy just as she needs me to be well! Through my years of experience and research, I have come to realize how important gut health is to your overall wellness (both emotional and physical!) – the gut is the foundation of everything. It aids in the digestion of the nutrients you ingest, and uses it to fuel and maintain your body. In a world with mounting pressures and never-ending expectations, we need to take active steps to safeguard and enhance our well-being.
With that, I was intentional about creating a product that consumers could incorporate into their daily palettes as a healthy staple or treat. 
 
Unlike regular ice cream, our hard serve froyo contains both prebiotics and probiotics that optimize the growth of healthy bacteria in your gut.  It is also made with high grade Virgin coconut oil due to its lower fat content and benefits for your heart. Every pint in this new range is the result of extensive R&D, and every single ingredient was curated specifically for the health benefits they offer.
 
As Sogurt pivots from a brick-and-mortar concept, we will be focused on strengthening and expanding the distribution channels for our new range of hard serve froyo.
1. Traditional e-commerce: Our pints and tubs are currently available on the following platforms: (i) sogurt.com.sg; (ii) Shopee; (iii) RedMart
2. Modern trade channels: Our hard serve froyo range is available at 62 NTUC FairPrice stores island wide in 5 signature handpicked flavours. In the coming season, we will be looking to stock our products more supermarkets. 
3. Corporate functions: We provide catering for a wide range of events, parties, corporate functions and more. Our services are custom tailored to meet your needs for events of all sizes.
4. Foodservice channels: We are looking to partner with foodservice establishments for more extensive distribution of our product.
Sogurt is continuously evolving, the way my life and who I am is as well. Transition and change are not easy, but really, with the right mindset and a receptive attitude, it's not that hard either!